Co-Lead User Experience Designer
Research and Analysis
Idea/product conceptualisation and ideation
Wireframing and Prototyping
Logo and brand conceptualisation
User Testing and Analysis
A concept that bridges the social interaction gap between all Optum employees in the Dublin offices
Fully supported concept by senior leadership
Bump! was a design thinking project I was part of during my time at Optum, our objective was simple to come up with a product or solution that would improve the Optum employee experience in any way shape or form. With a very broad project objective we embarked upon an in-dept 8-week design process.
This involved Organising running and analysing, focus groups, interviews, surveys and office walkthroughs as part of the research phase. Conceptualising our findings and thoughts and ideating upon them, until finally producing a working prototype which we then further tested with users and ideated on further until producing a full validated product.
At the beginning of the project our problem was simple how to improve the work-space of Optum employees.
There was no set in methodology of what product or solution we should design, only the problem statement.

From this our team was formed, named "The Ducks" made up of 4 user experience design interns, including myself, senior members included a SCRUM Master, Research Advisor and a Lead Design Coach.
Our 8 week project was structured around the double diamond approach of
Discover, Define, Develop and Deliver.
Discover:
In the discovery phase core attention was given to first uncover what are some of Optum employees pet peeves, issues and problems in a complete general sense, by means of organising structured interviews.
We based these early interviews around common overall problem themes we as team identified. With these themes identified we then proceeded to structure them into interview questions. 
The goal of these early interviews was to gain a more narrowed down insight into key problems facing Optum employees. From these early interviews preliminary themes and similarities began to emerge ...although they were quite general. With that said we then proceeded to compile our interview data and analyse our findings.​​​​​​​
​​​​​​​
Define:
Being that Optum in Dublin is split between two office buildings both with there own differences we discovered that this was one of the most common and prevalent issue facing Optum employees on a day to day basis due to the stark differences between the two buildings and accessibility between them. 
With this theme identified, we then as a team undertook further qualitative research methodologies like focus groups and interviews along with quantitative surveys in order to get a deeper sense of the issues at large facing Optum employees, with regards to the two buildings. 
Once again we then compiled, as well as analysed our findings and found the core issue facing Optum employees is the loss of togetherness and social cohesion between the two buildings due to the companies expansion. We then were able to define our problem statement as "how can we improve the social aspect of Optum in Dublin and bring people closer together".
Develop:
With a core problem identified it was now time to move into pathways of developing possible solutions to this problem of social disparity and disconnect between the two Optum buildings. 
As done previously our first protocol was to further narrow down this problem statement by further research and analysis as done previously. Subsequently, the core problem we identified was
"how can we connect Optum employees of both buildings more"
. We then proceeded into our idea conceptualisation stage and began ideating various ideas and solutions by means of creative innovation workshops and sessions with service designers and interaction leads . 
Through these workshops and sessions we came up with many kinds of ideas of how we can bring Optum employees closer together and narrowed them down as a team to a select few in which we discussed and evaluated their potential for tackling the issue at hand. From this, the idea of quick casual meet ups between Optum employees was born. 
The product we came up with was an app in which Optum employees would be able set up and schedule quick casual meets ups during work hours.
The problem we identified through our research phase was that a lot of employees felt as if due to company expansion the casual social aspect of bumping into people and meeting new people was somewhat diluted.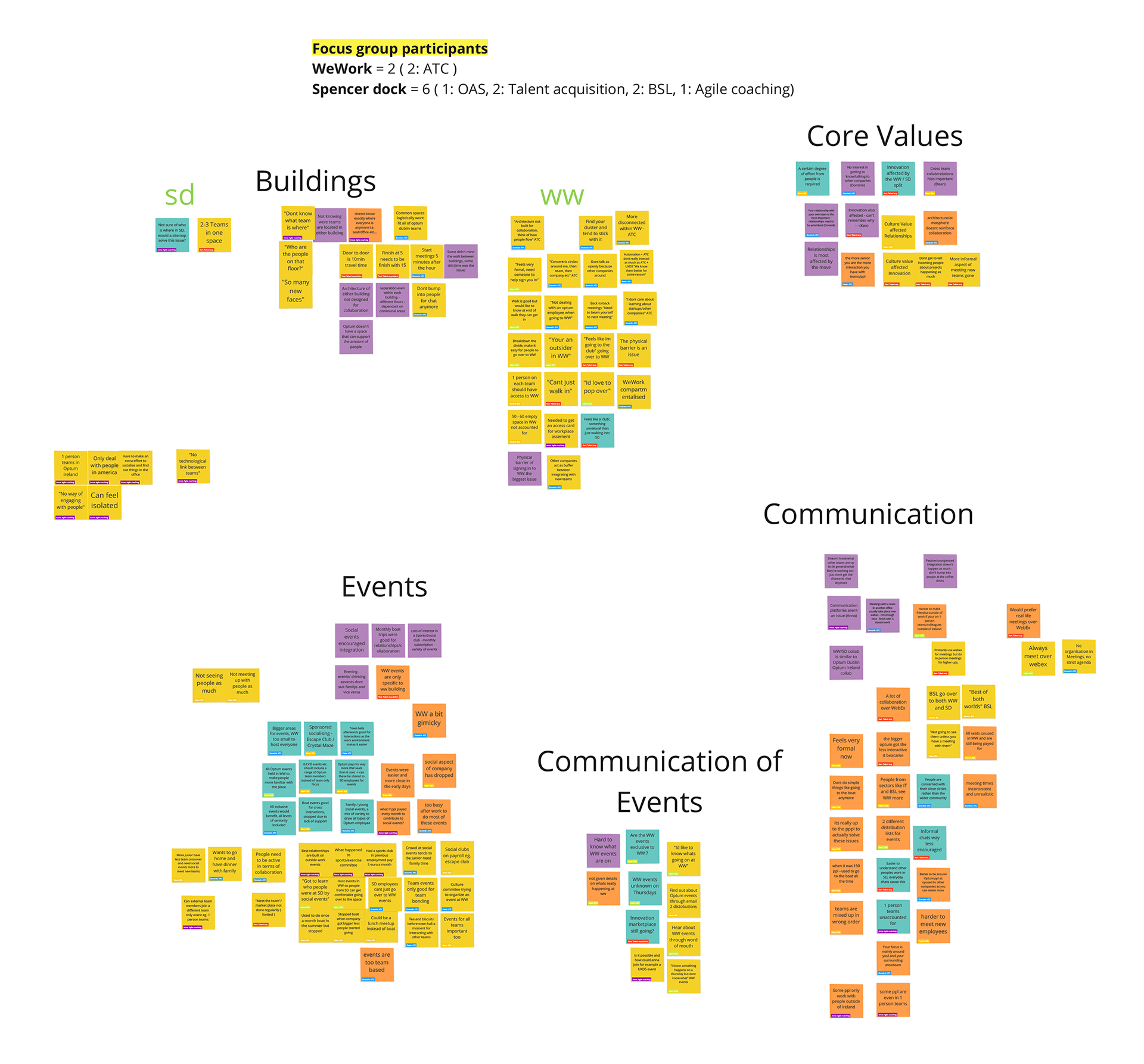 Deliver: 
With a strong concept of what we wanted the app to do, it was now time to proceed into designing out the app in its practicality. From this, we conducted comparative analysis and heuristic evaluations of similar apps, created personas and user journeys of how an Optum employee may potentially use the app.
We created rough sketches and diagrams of the interactional components and screens of the app, which furthermore led into low - fidelity wireframe prototypes and flowcharts.
Lisa
Age 35 – 44
Level of Education: Bachelor's Degree
Talent Acquisition Specialist
- Loves to socialise
- Attends many of events
- Loves competitions
- Unsure of the process/permissions of inviting friends of Spencer Dock building to WeWork building
- Misses out on events due to simply not knowing about them.
Kieran
Age 45 – 54
Level of Education Professional degree
Optum Advisory Services currently 1 person team
- Team of one in Dublin
- Wants to socialise with other teams
- Unsure of how to connect with other people/teams at Optum events
- Not sure of who is located whre


"Most of his interactions are online with remote teams"
Shane
Age 25 – 34
Level of Education: Masters Degree
Software Developer
- Been with Optum 2 years
- Feels a lose of connection due to company growth
- Wants to reconnect with people …their own employees i.e. Senior and Lower levels of management
- Feels detached from the ordinary Optum employee


"Remembers evenings out at the local bar with employees and misses them"
​​​​​​​
Andrea
Age 26
Level of Eduction: Bachelors
IT Graduate
- Just started working at Optum
- Doesn't know much people and is daunted by how empty Spencer Dock is
- Interested in getting to know more people
- Nobody on his team has similar interests
- Doesn't feel comfortable with current or other Optum building
- Knows the surrounding teams, but not much else
"doesn't know where teams sit or what they do"
High Fidelity Prototype + Testing
Shown below is the high - fidelity clickable prototype of Bump made using Figma, 

With this prototype we got to test them with employees in order to gain their insights and experience using the app and what they think of the app in their experience and feedback. 
We then further tested the prototype with developers and accessibility engineers for a more cohesive and usable experience for all types of users, for which we then could take into a final high - fidelity prototype.
High - Fidelity Prototype
BUMP operates by means of users sending out signals via their smartphone request quick 10 - 15 meet ups between other Optum employees available through out the working day. Users are able to quickly schedule meet ups via prompt text messaging along with notifications and a navigation guide of the meet up location.
The prototype itself in its design and aesthetic embraces the company culture of Optum/UHG by means encouraging relationships, compassion, integrity, innovation and collaboration.