Built the complete product from scratch.
Project Ideation, Research and Testing.
Full frontend development: HTML5, CSS and Javascript.
Fully functional and validated app.
First class honours grade received in final semester examinations.
High appraisal for project uniqueness and function in the final year show.
Background
Inspiration fuels design
but more particularly the inspiration from nature and the environment. Nature has a complex array of structures, patterns, form and aesthetics where many elements can be taken from and put to work in another context i.e. architecture, furniture design, graphic design etc...

The term for this is called Bio-mimicry design. Some popular examples would include….
Sydney Opera House – Sea gulls
Beijing Olympic Stadium – Birds nest.
Taipei 101 – The Bamboo tree
​​​​​​​
What Elemental aims to do is encourage creative minded people to get out there and invigorate their work and projects in a more intuitive and practical way as opposed to just looking up things on the internet, books and various ideation techniques.
Although creative inspiration is a key aspect of Elemental. Elemental also aims to give everyone from any demographic a platform for which they can discover and interact with interesting insights and information about the environment around them.
The product itself is a smartphone app where users can scan QR codes scattered throughout popular points of natural and environmental interest, as well as artistic and architectural points of interest locations throughout the world.

​​​​​​​
With the premise and concept of Elemental in place, It was time to bring concept into fruition by means of an actual product.

With that said in order to create a product that functions and operates accordingly to the projects goals and context, it was essential to undertake a user focused design process which placed the user front and centre in all stages of the process. 
For this project I truly had to gauge and understand the user in all aspects of how they may use this app in terms of their expectations, aspirations and problems in not only a technological sense but also a cognitive sense. With that said, below are the sequential steps which were undertaken as part of this project.
Early User Flow + Card Sorting Exercises​​​​​​​
In order to gain a practical understanding of how Elemental was to operate in terms of objectives and navigation, I began by creating various site map sketches as show above. I then took this a step further by conducting card sorting exercise's with people in order to gain a deeper insight to how users interpret the series of potential steps and functions within the app.
With a more established sense of flow, I then began to conceptualise the layout, navigation and experience of the overall app by means of sketches and wireframes, as shown above.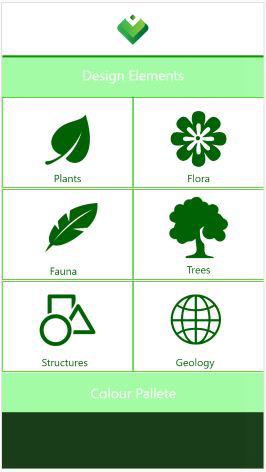 Moving into the next level of the research and testing, I was able to establish a suitable brand and aesthetic for Elemental, which I then brought forth into the low fidelity prototype.
I undertook the focus group study from students from the College of Architecture and Business in Cork. Since creative people as well as students are key target demographics of the project, the architecture students were and ideal participant group as I was able to gather their thoughts on my project by ways of their own experiences and different perspectives.
Furthermore, I gave the users certain tasks to complete using the low - fidelity prototype I had created. From this, I was able to get a deeper understanding of the overall concept and user experience of the app. 
Overall the focus group study went very successfully I was able to find out new things about the possibilities of where I can take the project and also doing away with many of the biases I had about my own project. Here is a direct link to the audio recording of this focus group https://youtu.be/sgGcKF8pdlU
After evaluating and analysing my findings from the focus group it was clear that there a few issues and things to implement from my original prototype, such as a more intuitive social aspect, better contrast in colours, more informative, better labelling, more imagery and overall more fluid interactions.
From both my research and testing as well as project concept, I created two personas which reinforce my findings throughout the process I could bring forward into further design and prototyping​​​​​​​.
Michael Lee 
Age 21, Work: Architecture Student, Family: Single
Background
Michael is an Architecture student from UCC in Cork. Michael is working on a project that involves coming up with a design solution for an eco-friendly shack that embraces passive solutions but also aesthetics and appeal.
Goals
succeed in every level in his architecture course, after he graduate Michael hopes he will have an exceptional portfolio that demonstrates artistic integrity and architectural technique. 
Frustrations
Michael frequently uses the internet and books in order to get ideas flowing and to some degree gives him what he needs to get by, but Michael feels this process is very linear and even feels like he is copying other people from time to time.
Tech
Michael has strong IT and computer abilities, Michael has been using complex computer programs for years now and is well adapted to utilising much of a devices capabilities.
Suzie Gueller
Age 36 Work: Marketing Manager Family: Married with a newborn
Background
Suzie is a Marketing Manager from Portland Oregon and has just been relocated to Ireland to head up a marketing team for her companies new EMEA offices.
Goals
Suzies primary goal as she comes to Ireland is to lead a brand new formed marketing team in Ireland for her company for the first time.
Frustrations
Suzie often gets frustrated by the shear level of restriction placed on branding items back home and is really hoping a more creative light can be shined on her company, now she is in Europe.
Tech
Suzie has intermediate IT skills, over her career she has gained proficient knowledge in many standard admin tools and programs and utilisation of the internet.
I was then able to bring these findings forward into further prototyping and eventually a final prototype that went into full development. The final prototype embodies all of what we have gathered from both user research/testing and best practise design.